Amma encourages us to celebrate Deepavali as "the awareness of the inner light", reminding us that the luminous inner light of the Self is ever shining steadily in the chamber of the heart – and that the very goal is to seek that Self.
As we prepare to celebrate Christmas by the light of the beautiful tree that has been set up at our Centre by our Bala Kendra Sevikas, we take a moment to reflect on our special collective celebration of Deepavali.
As always, the Amriteswari Society celebrated Deepavali at both our Centre (3 Hindoo Road) as well as at Meranti Home, bringing Amma's love and light to one and all.
Shubh Deepavali Celebrations at our Centre
On Sunday, 11th November, devotees gathered early in the morning at our Centre for the Mahalakshmi Deepa Pooja that opened our "Shubh Deepavali Celebrations" that was organised by Amriteswari Society's Women's Wing. The magnificently decorated altar was a symbolic reiteration of our divine nature, and a powerful reminder of our primary responsibility to pursue the path of light and attain liberation.
The next segment "The Divine Light Within", explored the inspiring and intricate connection between spirituality and artistic expression. Amma says, "Walk with the Light, you will shed Light everywhere you go." Our young Bala Kendra children depicted this simple yet profound truth as they entered the hall, lamps in hand and dressed as little Krishnas and Radhas. They sang, danced and clapped to "Krishna Govinda Gopala", much to the delight of the crowd.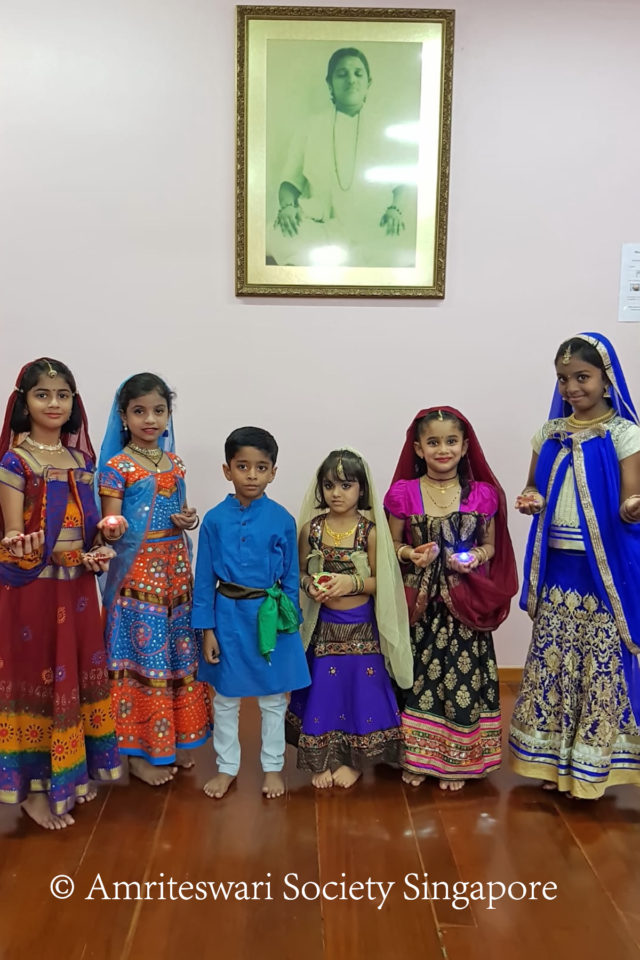 This was followed by an offering of devotional music by our music students ranging from young children to seniors. Guided by their teacher Sri Sajith, the group enraptured the Satsang with classics such as "Mudakaratha Modakam" and "Swagatham Krishna". The presentation included a soul-stirring rendition in Kapi raga by Sri Sajith.
The cultural segment closed with a graceful Odissi dance offering by Singapore-based dancer Smt. Soumee De who enthralled the Satsang with her intense and uplifting portrayals of the Mother Goddess in "Devi Mangalacharan" and the ten incarnations of Maha Vishnu in "Dasavathara Sthothram".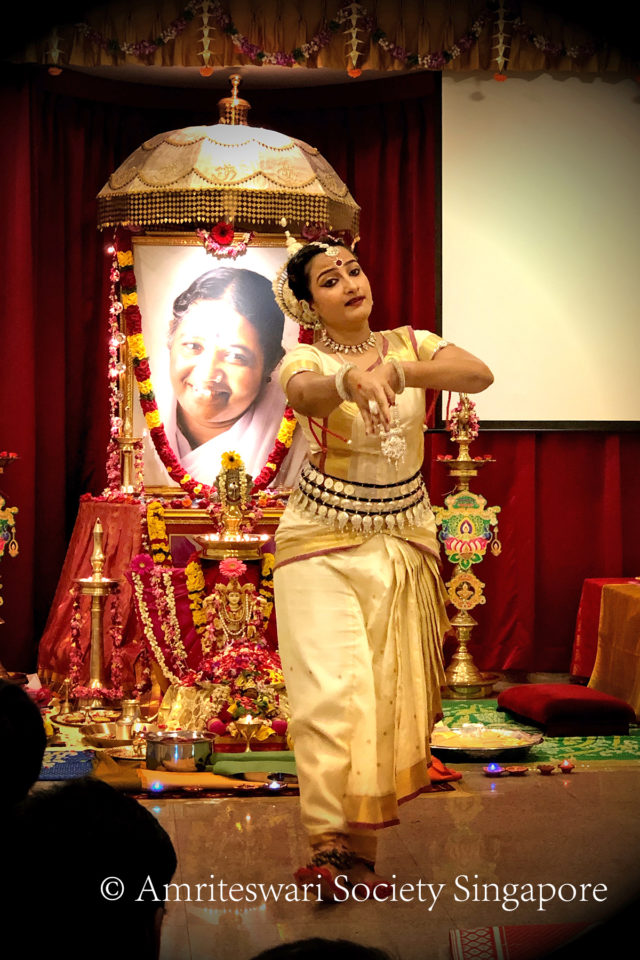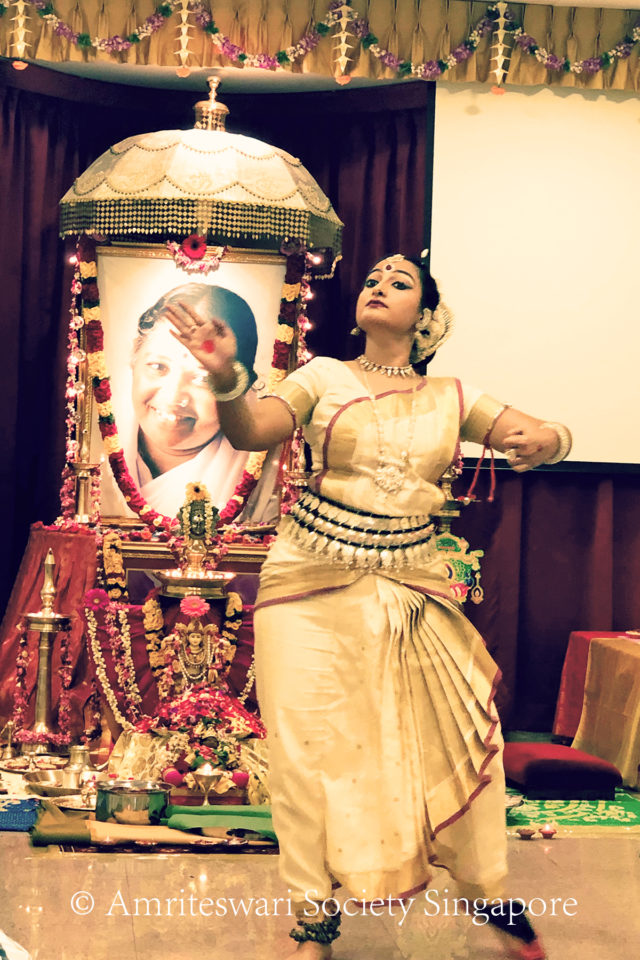 A surprise video screening of Amma dancing to "Bolo Bolo" had devotees joyfully clapping and tapping the dandiya sticks they were provided with, creating a charged atmosphere of love, light and happiness.
After the exciting celebrations in the morning, devotees were served with a delicious prasadam brunch, which was in the form of a potluck this year. Volunteers cooked up mouth-watering vegetarian dishes as well as sweets, biscuits, cakes and baked goodies! With so much food graciously and generously prepared by devotees, we were delighted to open our doors to all who came and more, serving each and every person with love and care, as inspired by Amma.
Deepavali Celebrations at Meranti Home
On 17th November, volunteers from Amriteswari Society came together again to celebrate Deepavali with the residents of Meranti Home, a Home which provides shelter and rehabilitation for male destitute persons requiring psychiatric care. Our volunteers entertained the residents of the home through song-and-dance performances, interactive games and musical pieces. Residents were overjoyed to spend the day immersed in Indian culture, and even joined in enthusiastically  on stage to sing and dance along! Thereafter, they were served tea and dinner by our volunteers.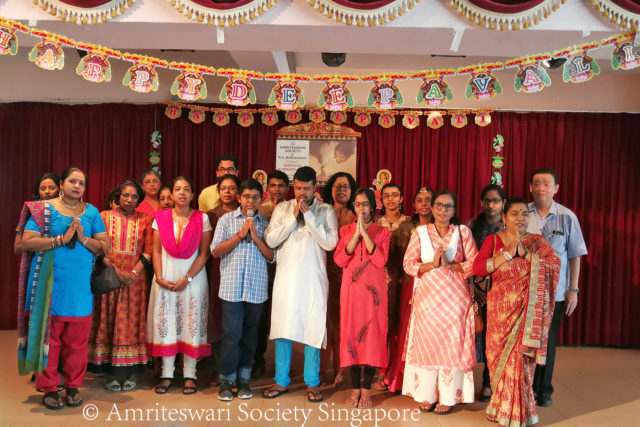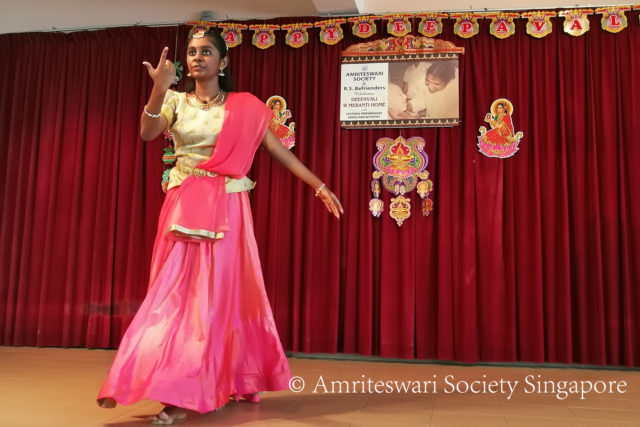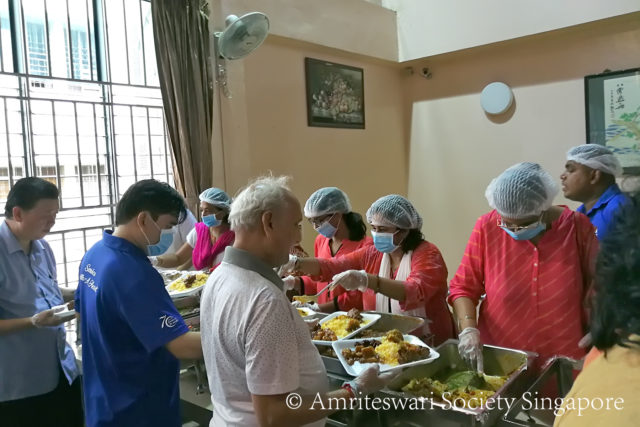 Amma says "Serving the world with love and cooperation, you will find your own true self. As you help those in need, selfishness will fall away, and without even noticing you will find your own fulfilment." Indeed, all of our volunteers left with their hearts filled, feeling fulfilled in being given the opportunity to perform selfless service.