Amriteswari Society is one of more than 250 religious organisations that signed the "Commitment to Safeguard Religious Harmony in Singapore", which was presented to the President of Singapore 19 June 2019 at the International Conference on Cohesive Societies.
Prior to this on 29th May, the Ministry of Culture, Community and Youth that had prepared the statement, held a discussion with religious communities and organisations to share and explain the contents of the statement. The discussion that took place at the Hindu Endowments Board, was attended by Mr Rajan Menon, Chairman of the Amriteswari Society.  At the end of the discussion, Mr. Menon signed the "Commitment to Safeguard Religious Harmony in Singapore" statement on behalf of the Society.
The Commitment states: "Singapore has enjoyed a high level of harmony and peace in our religiously diverse society. This is not by accident, and we must constantly work to protect, cherish and promote our religious harmony, as it is key to our peace, prosperity and progress." By signing the Commitment, Amriteswari Society and the various organisations in Singapore reaffirmed 1) Upholding the Freedom of Religion, 2) Building Stronger Bonds, 3) Fostering a Culture of Consideration and Mutual Understanding, 4) Sharing and Propagating Beliefs Respectfully and Sensitively, 5) Maintaining Solidarity in Crisis, 6) Supporting Institutional Efforts, and 7) Safeguarding Religious Harmony for a Better Singapore for All. READ MORE
Indeed, the vision and practice of inter-religious religious understanding and harmony is a fundamental pillar of the teachings of Sri Mata Amritanandamayi ("AMMA") upon whose teachings, the Amriteswari Society was founded and has developed here in Singapore over the past 23 years.
In Her speech delivered at the centenary of the famous Parliament of Religions in Chicago in 1993, AMMA has said:
"The spirit of all religions is one. They share the same fundamental values. They share a common concern for the universal welfare of all beings, and an acceptance of the innate sacredness of all life … The language of religion is the language of love. But it is a language the modern world has forgotten. This is the basic cause behind all the problems that exist in the present day world. Today we know only limited selfish love. Transformation of this limited selfish love into Divine Love is the goal of religion. Within the fullness of true Love blossoms the beautiful, fragrant flower of compassion."
A silent Prayer for World Peace by AMMA and members of the Inter-Religious Organisation (IRO) from the Hindu, Zoroastrian, Buddhist, Taoist, Jain, Christian, Muslim, Sikh and Bahai'i faiths respectively, has come to be a powerful and integral point in AMMA's Singapore Programmes. Multipronged in its import, the moment of collective prayer underscores the desperate need of the hour on a global scale, as well as the strong focus of inter-religious harmony reflected in the multiracial and multireligious landscape of Singapore, and in the teachings of AMMA.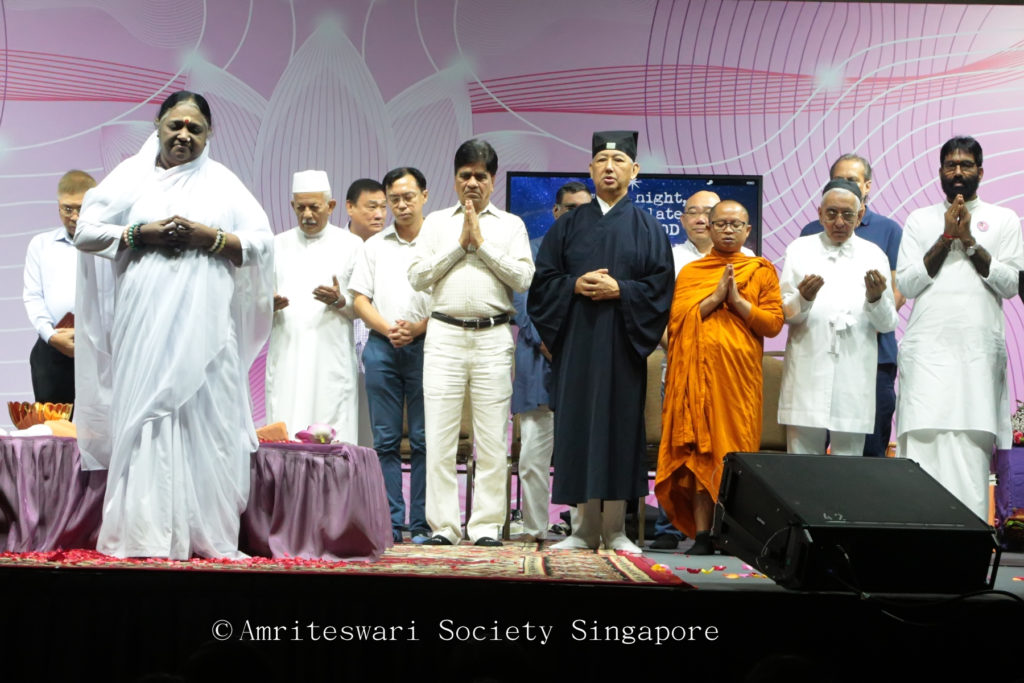 "We are all beads strung together on the same thread of love." -AMMA (Mata Amritanandamayi)