3 Day Event ~ 27th, 29th & 30th September 2018
The Amriteswari Society has been immensely privileged to facilitate the celebration of Amma's Birthday for the past 31 years in Singapore. This year, the special Programme for Amma's 65th Birthday comprised a range of events that were held at our Centre (3 Hindoo Road, Singapore 209106) and at external locations.
Day 1 – Thurs 27th September
The Celebrations opened at 7am on 27th September with the Maha Ganapathi Homam. This auspicious opening took place on Level 2 of our Centre. The joy and excitement was palpable in all Amma's children who were present.
All then adjourned to the Main Hall on the ground floor at around 8am for the Paduka Puja and Abhishekam wherein each devotee came forward to offer milk on Amma's Padukas, as an outpouring of love, gratitude and devotion.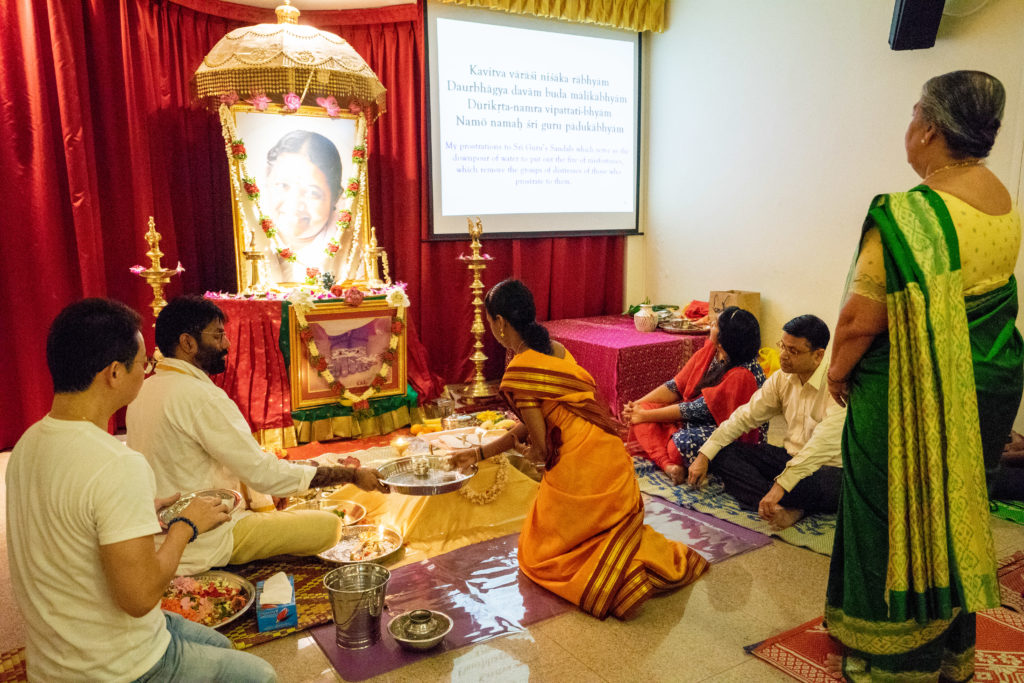 Amma's Ashtothram was then chanted followed by the Prayer for World Peace 108 times, after which all sang together the bhajan "Guru Charanam Sadguru Charanam, Amritanandamayi Charanam…". Following the Arathi and Closing Prayers, Prasadam was served. At lunch time,  naivedyam that had been lovingly prepared by a devotee was offered at Amma's altar and a chapter of the Bhagavad Gita was chanted. Amma's children then sat down together to have lunch as they watched live on screen, Amma's Birthday proceedings at Amritapuri.
Day 2 – Sat 29th September
Love and reverence for Nature was incorporated into Amma's Birthday Celebrations this year. On the morning of Amma's Nakshatra (Star) Birthday on 29th September, the Society supported the Plant-a-Tree programme by the Singapore Environment Council and the Garden City Fund. Amma's children gathered at Bedok Town Park at 9am to spend 2 hours planting 25 saplings. Everyone then adjourned to sit under the shade of a large tree to chant and then to enjoy a picnic lunch prepared by devotees.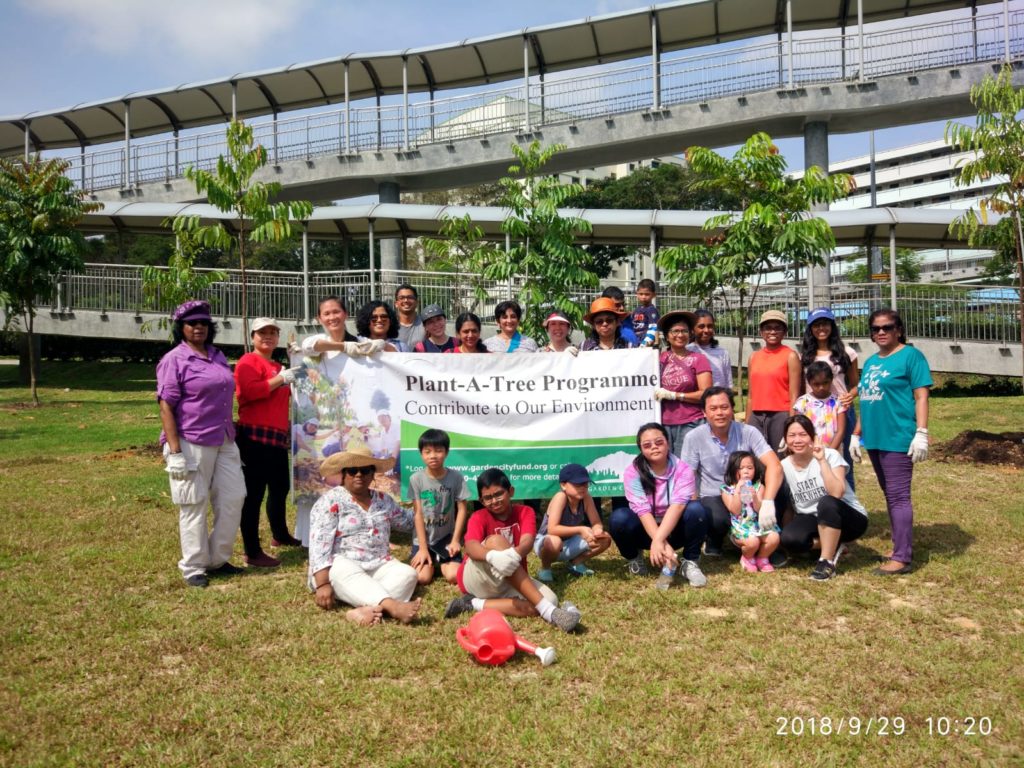 The evening event at our Centre commenced at 5.30pm with the Bhagavathi Seva Pooja, an ancient Vedic ceremony performed to restore balance in the environment and bring peace within us and the world.  Bhagavathi Seva was conducted in the intimate precincts of Amma's room (3 Hindoo Road), and the participants who sat together at the beautifully decorated altar included pooja sponsors as well as celebrants of personal milestones.
During this time, devotees also gathered in the Main Hall to chant the Lalitha Sahasranamam.
All then gathered in the Main Hall for Paduka Pooja and Lakshmi Pooja, followed by the chanting of Amma's Ashtothram and Lakshmi Ashtothram. The Prayer for World Peace "Lokah Samastha Sukhino Bhavanthu" was then chanted 108 times, as advised by Amma.
The Chairman of Amriteswari Society, Rajan Menon, then stepped forward to address Amma's children.
"Aum Amriteswaryai Namah.
I offer my pranams to all Amma's children gathered here on this special and auspicious occasion of our Beloved Amma's 65th Birthday. Once again, members of the Society have come together in a spirit of unity to honour the Divine Mother who has entered each of our hearts, binding us together to grow in love, selfless service and surrender.
Our Celebrations commenced on Thursday with the Maha Ganapathi Homam and Prayers here at our Centre. This evening we have had the precious opportunity to experience the powerful and uplifting Bhagavati Seva Puja and Lakshmi Puja. Amma is opening the doors for more Upaasana as well as Seva. This morning many attended the Plant-a-Tree event and tomorrow the Serve-a-Meal programme will take place at two locations. We are indeed fortunate and blessed.
This year on Amma's Birthday, we are happy to launch a set of New Initiatives.
Firstly, the LAUNCH OF AMRITESWARI SOCIETY'S NEW WEBSITE
A few months ago, the Management Committee requested for its website to be looked into and improved. The idea of a new website was suggested.
For the past few months a team of dedicated volunteers from our Society has been working tirelessly on conceptualising and designing our new website. They have been working to create a site that informs, inspires, is interactive and that provides:
a Responsive and user-friendly experience

the facility for Online registration of events and payment online

an eCommerce platform to sell products online with online payment

a Blog
Over the past few events, you have all  cheerfully and supportively joined in to help ease the administrative and logistical work, by transitioning quite smoothly to online registrations for our events. At Amma's Programmes we have gone cashless successfully. With the new website that we are about to launch, you will not only register online but will also be able to pay online, complete your satsang bookings online and also shop online.
May I invite Aunty Prasanna to please come forward to launch our new website. (By clicking a button, senior member Mrs. Prasanna Dayanandan launched the Society's new website).
LAUNCH OF OUR FUNDRAISING EFFORTS FOR AMMA'S 2019 PROGRAMME
Each year, for the past 31 years, Amma has graced us with Her presence here in Singapore. Over the years, Amma's programme has transformed into a large scale event that is widely attended by devotees and guests from Singapore and the world. In planning and preparing for Her Programme, Amma invites us all to perform Seva and burn our karma in numerous ways. Without the effort of fundraising, it would be impossible to organise Amma's Programme that brings comfort and healing not only to each one of us here, but to thousands of people.
While we generally commence our fundraising activities closer to the time of Amma's Programmes, this year we wanted to start well in advance so as to explore new and innovative ways of drawing in the funds, as well as to provide each and every child of Amma's the opportunity and privilege of being a part of this precious and crucial endeavour. On Amma's Birthday we have come together to launch our fundraising efforts for Amma's 2019 Programme in Singapore. Part of the contributions received for Amma's 65th Birthday Celebrations will be channelled towards Amma's 2019 Programme.
To support Amma in Her efforts to help humanity, we personally invite each of you to consider joining the Fundraising sub-committee. I have no doubt that many exciting possibilities will unfold when Amma's children come together to brainstorm under Her loving guidance. Please go to the Participate in our Activities page on our new website, where you will see the option to join our Fundraising Team. Please click JOIN. And let's take it from there.
LAUNCH OF AMRITESWARI SOCIETY'S BALA KENDRA PROGRAMME
Five women members underwent the initial Bala Kendra Teachers Training Programme. With the launch of our new Website, the online registration for the Bala Kendra now commences with classes opening on 6th October and every fortnight thereafter.
INTRODUCING THE AMRITESWARI SOCIETY'S WOMEN'S WING
Women have the potential to make a tremendous contribution to society and bringing visibility and voice to Women will be a meaningful step forward, one that is in line with Amma's teachings and intiatives. May I invite the Women's Wing to introduce itself?
Rubavathy Muthu and Deepa Pillai informed:
"Om Namashivaya
Our Humble Pranams at the Lotus feet of our AMMA.
On this auspicious day, it is our proud privilege to announce the launch of our women's wing. Our objectives are to gather as a group to stand in solidarity with women within the Society and in the wider community. At this moment it is still growing from the ground up and we invite all our sisters here to join us as we dream this sisterhood into being.
We draw inspiration from Amma's guidance and Her commitment to improving the lives of women. Please do sign up with us for our fortnightly meetings. It is a wonderful opportunity to be part of something new and meaningful under our Amma's loving gaze."
With the launch of the new Website and the introduction of the Women's Wing, the online registration for the Women's Wing can also open.
In a sense, these 4 initiatives are interwoven and support one another… so it is timely that they are launched together and there is no better occasion than Amma's Birthday!
Heartfelt appreciation to all Amma's children who have worked hard to get these projects off the ground. May Amma shower Her love and blessings on each and everyone of you.
On behalf of the Society, I thank all who have sponsored, volunteered, participated and contributed so wholeheartedly towards Amma's 65th Birthday Celebrations. Aum Amriteswaryai Namah".
Day 2 of Amma's Birthday 65th Birthday Celebrations continued with the reverential and resounding strains of~ Guruvatinavale, Gajanana He Gajananana, Jaya Mata Bhavani, Annai Kayil and Mata Rani. Joy and love pervaded the hall with the collective and exuberant singing of Amma's Birthday Song ~ Inallo Karthika Nalu. The evening concluded with Arathi and Closing Prayers.
Day 3 – Sun 30th September
On the 3rd and concluding day of the Celebrations, Amma's children converged at our Centre at 9.30am for Satsang followed by the Society's Annual General Meeting. The meeting witnessed the review of activities and financial statements,  amendments to the Constitution, approval of the budget and election of office bearers for the 2018/2019 Management Committee of the Amriteswari Society.
That afternoon, the 'Serve-a-Meal" seva activity was conducted in two locations ~ at Marsiling and Taman Jurong. Food was prepared by our volunteers at the Sri Arasakesari Sivan Temple and Bo Tien Temple respectively, and distributed to residents in those areas.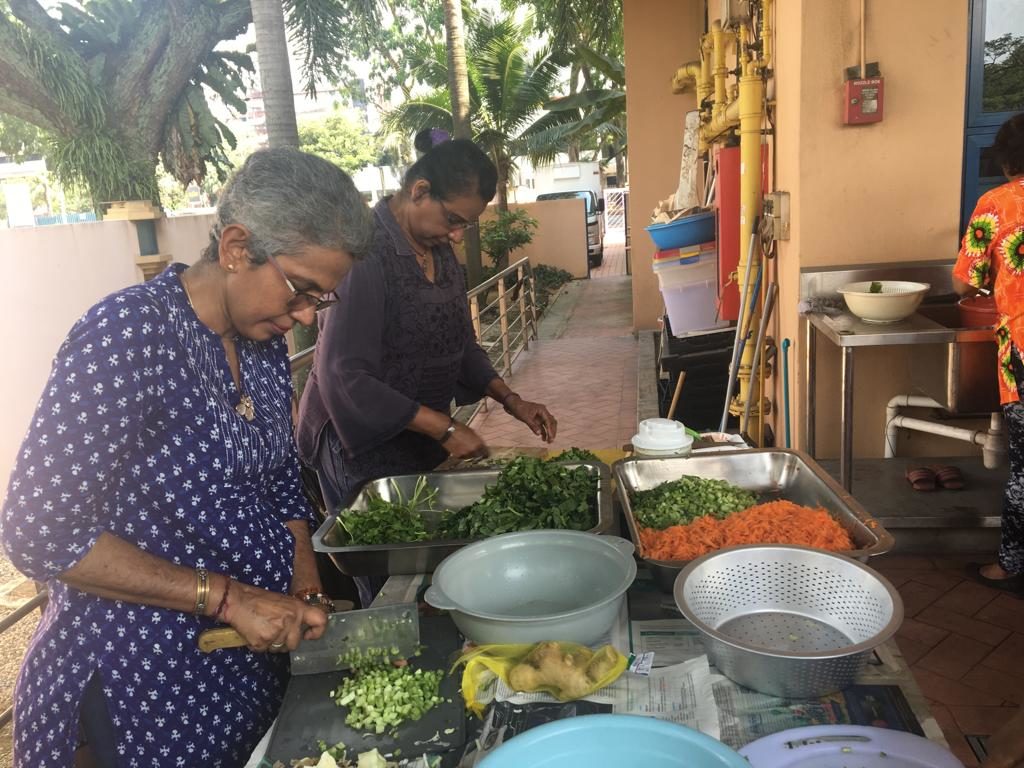 On this note of service to the community, Amma's 65th Birthday Celebrations in Singapore came to a fulfilling close.
An excerpt from Amma's Birthday message (27th Sep 2018):
"The more space we create in our heart for others, the more happiness and contentment we will feel. The law of the universe and of life is selflessness…The love and compassion that overflows from our heart is the power that leads us to victory… This strength destroys all barriers and joins all hearts on a single string. May this love and compassion ever illuminate our hearts." ~ AMMA