Amriteswari Society
a Report on 
GURU PURNIMA
Friday, 27 July 2018
"The guru is like a huge doorway through which the disciple can move forward on the spiritual path. In order to do this, the disciple should enter the heart of the guru. Only when the disciple is mentally ready to enter does the teaching really start. Then alone the guru-bhava becomes expressed in the guru. Guru Purnima is a reminder to find our purnatvam—our fullness—within. Looking through the small windows of our mind, we come to wrong conclusions about ourselves and the world. The guru is the most noble and trusted friend who awakens us to the reality that, 'I am not this small entity; I am the infinite, as pervasive as the sky. I am fullness itself." 
From Amma's Guru Purnima satsang delivered in Amritapuri Ashram on July 27, 2018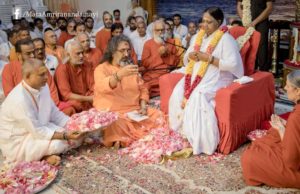 Guru Pada Puja at Amritapuri
Shower of Blessings from Amma at Amritapuri
Guru Purnima Celebrations at Amrita Centre (Singapore)



There was an air of intense joy on the morning of 27th July at Amrita Centre, where Amma's children gathered for the Morning Programme which commenced at 8am. The celebrations opened with a beautiful and moving Paduka Puja followed by the chanting of Amma's Ashtothram.

This was f

ollowed by Abhishekam and Bhajans.
The atmosphere at Amrita Centre was spiritually charged.

Everyone present had the privilege of performing Abhishekam.

Following a short break during which time Prasad and breakfast was served, devotees gathered once again in the main hall on the ground floor to chant Lalithasahasranamam. Lunch was then served, which marked the end of the Morning Programme.
Amma's children here in Singapore gathered at Amrita Centre once again for the Evening Programme which began at 7pm with Paduka Puja and Amma's Ashtothram. 

The altar was magnificently decorated for the Lakshmi Puja, an auspicious moment of clearing and cleansing the path towards material as well as spiritual wealth.

Altar at Amrita Centre decorated for Lakshmi Puja
The satsang then came together in offering Bhajans of love, devotion and gratitude to Amma ~
Jaya Mat Bhavani, Ammana Divya, Om Shakti Om Shakti, Guru Krpa, Alo Mi Mate
and
Var De Var De
. The Programme culminated in Amma's Arathi – hearts and minds united in   "Mangala Arathi Mata Bhavani, Amritanandamayi, Mata Amritanandamayi". Guru Purnima celebrations at Amrita Centre closed with Prasad and many uplifted hearts.
Amma first came to Singapore in 1987, embracing hundreds of people here and inspiring them to walk the spiritual path. When Amma first stepped on Singapore soil, She heralded a process of spiritual development for people who were embraced by Her. Year after year, She has returned to touch and transmute tens of thousands of people in Singapore with Her infinite Love and Compassion.
Dear Amma
With You in our lives
we hope to understand Your teachings more intimately and
pray
that will help prevent us from wandering and squandering this precious short human life.
Please keep guiding us, to continue our individual spiritual work until we attain God or Self-realisation – merging with our Divine Mother. Amma please keep inspiring us as a Society, to keep striving to live up to Your conduct – of selfless loving and serving of others with compassion, thus serving the nation and making the world a better place. May we always hold in our consciousness Your very first message to us in 1987 ~
Ah, my children dearest sweetest
You are the essence of Divinity,
Grow great in that awareness,
Realise and be that Truth
Mata Amritanandamayi